PENDRAKEN
RANGE:
Click on the links above to view the galleries.
We welcome any comments, feedback or requests you may have. Click the Contact Me link above to have your say.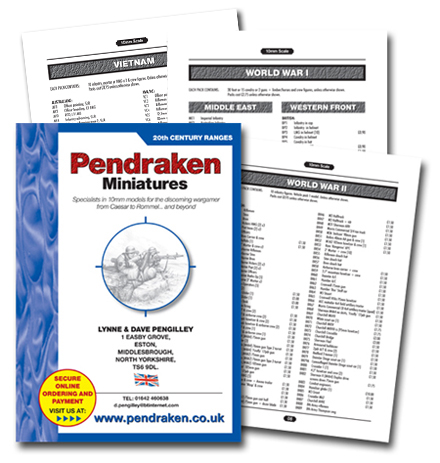 Pendraken Miniatures
20th Century Supplement
covers the
following ranges:
• COLONIAL WARS

• RUSSO-JAPANESE WAR

•1910-1920's FOREIGN LEGION

• WW1

• WW2 AMERICAN
• WW2 BRITISH
• WW2 FRENCH
• WW2 GERMAN
• WW2 ITALIAN
• WW2 ROMANIA
• WW2 RUSSIAN

• WW2 AIRCRAFT & SEA VESSELS

• WW2 BKC BATTLEGROUP PACKS

• VIETNAM

• PENDRAKEN SCENICS
Lists are correct as of
25th September 2007.



CLICK ON IMAGE
to download PDF.
(PLEASE NOTE:
You will need Adobe Reader installed to view and print this file)

For the full lists of all Pendraken
Miniatures Ranges please click on the link - Pendraken Home, above